In the digital era, we're generating and collecting an immense amount of data every second. This explosion of data, known as "Big Data," has transformed the way we analyze and derive insights. Big Data refers to extremely large and complex datasets that traditional data processing applications find challenging to handle efficiently. To manage, process, and extract valuable insights from these vast datasets, businesses and organizations turn to a powerful ally: cloud computing.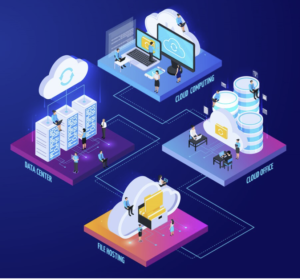 Understanding Big Data: Big Data is characterized by the three Vs: volume, velocity, and variety. Volume refers to the sheer amount of data generated daily, ranging from gigabytes to petabytes. Velocity signifies the speed at which data is produced, and variety encompasses the different forms of data, including structured, unstructured, and semi-structured data.
The Role of Cloud Computing: Cloud computing offers a scalable and flexible infrastructure to manage big data effectively. Instead of relying on traditional on-premises data centers with limited capacities, cloud-based platforms provide the resources required to store, process, and analyze big data on demand. The cloud allows businesses to scale up or down based on their current needs, optimizing costs and ensuring efficient data management.
Storage and Scalability: Cloud providers offer scalable storage solutions that can handle enormous volumes of data. As your data grows, the cloud scales seamlessly, ensuring you have enough storage space without the hassle of physical hardware upgrades. This is crucial for handling the increasing volume of big data generated in various industries.
Processing and Analysis: Cloud platforms provide powerful data processing capabilities, allowing you to process and analyze big data quickly and efficiently. Technologies like Hadoop and Spark, which are popular for big data processing, can be seamlessly deployed and managed in the cloud. This ensures that you can derive valuable insights from your data in a timely manner.
Cost-Efficiency: Utilizing the cloud for big data initiatives can be cost-effective. Traditional on-premises infrastructure involves high initial investments and ongoing operational costs. In contrast, cloud computing operates on a pay-as-you-go model, where you only pay for the resources you use. This cost efficiency is particularly beneficial for businesses of all sizes.
Also Read:
Security and Compliance: Cloud providers prioritize security and compliance, offering advanced security measures to protect your big data assets. They comply with industry regulations and standards, giving you peace of mind when handling sensitive and critical data. These security features include encryption, access controls, and regular security updates to safeguard your data.
Accessibility and Collaboration: Cloud-based Big Data solutions facilitate easy access to data from anywhere, promoting collaboration among teams spread across the globe. Multiple team members can access and work on the same dataset simultaneously, enhancing productivity and fostering innovation.
Conclusion:
Big Data and cloud computing are a powerful duo, revolutionizing the way we handle and harness data. The scalability, cost-efficiency, and security that cloud platforms provide make them an ideal choice for businesses looking to leverage the potential of big data. As we continue to witness exponential growth in data generation, the synergy between big data and cloud computing will play an increasingly critical role in shaping the future of data analytics and business intelligence.