In a world inundated with data, businesses are constantly on the lookout for ways to turn this valuable resource into actionable insights. This is where Business Intelligence (BI) software steps in. BI software helps organizations analyze data, visualize patterns, and make informed decisions to drive their success. However, with a plethora of options available in the market, choosing the best BI software can be a daunting task. Let's explore some of the top contenders, each with its unique strengths and features.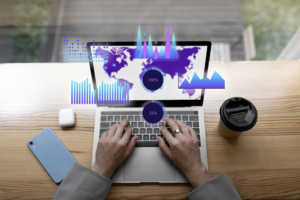 1. Tableau: Unleashing the Power of Visual Analytics
Tableau is renowned for its intuitive and interactive data visualization capabilities. It allows users to create visually appealing dashboards and reports, making complex data easy to understand. Tableau supports a wide range of data sources and offers real-time analytics, enabling businesses to respond swiftly to changing trends.
Key Features:
Drag-and-drop functionality for ease of use
Real-time analytics for timely decision-making
A vast library of pre-built data connectors
2. Microsoft Power BI: Empowering Every Decision
Microsoft Power BI is a powerful and user-friendly BI tool that integrates seamlessly with Microsoft products. It offers robust data visualization, sharing, and collaboration features. With its natural language processing capabilities, users can ask questions and receive insights in real time.
Key Features:
Familiar interface for Microsoft users
Natural language querying with Q&A
Integration with Microsoft products like Excel and SharePoint
3. Qlik Sense: Liberating Intelligence
Qlik Sense stands out for its Associative Engine, which allows users to explore data freely rather than being confined to a predetermined path. It offers a data storytelling feature, enabling users to create and share interactive narratives around data.
Key Features:
Associative Engine for exploratory data analysis
Data storytelling for effective communication
Strong governance and security capabilities
4. SAP BusinessObjects: Transforming Data into Business Value
SAP BusinessObjects is a comprehensive BI suite that provides a range of tools for reporting, analysis, and visualization. It offers solutions for various business needs, from ad-hoc reporting to advanced analytics and planning.
Key Features:
Suite of tools catering to different BI needs
Integration with SAP and non-SAP data sources
Predictive analytics and planning capabilities
Also Read: 5 Reasons Why Data is "the new soil."
5. Domo: Operating with Cloud-Native Power
Domo is a cloud-based BI platform that offers a holistic view of business data through its customizable dashboards. It is known for its ease of use and powerful collaboration features.
Key Features:
Cloud-native architecture for scalability
Integrated collaboration and sharing capabilities
Customizable dashboards for personalized insights
6. Looker: Delivering Data Experiences
Looker focuses on data experiences, allowing users to build their data applications and workflows. It emphasizes data modeling and exploration, enabling users to create a cohesive view of their data.
Key Features:
Data modeling for a unified view of data
Embedding capabilities to integrate data into workflows
Strong data exploration and visualization options
Also Read: Unveiling the Power of Big Data Analytics: Transforming Businesses and Industries
Choosing the Right BI Software for Your Business
Selecting the best BI software depends on various factors such as the size of your business, budget, specific requirements, and ease of integration with existing systems. It's essential to evaluate each option thoroughly, considering your organization's unique needs and goals.
In conclusion, Business Intelligence software is a critical asset for any business aiming to thrive in the data-driven era. By carefully assessing and selecting the right BI tool, you can unlock the true potential of your data, make informed decisions, and stay ahead in the competitive business landscape.